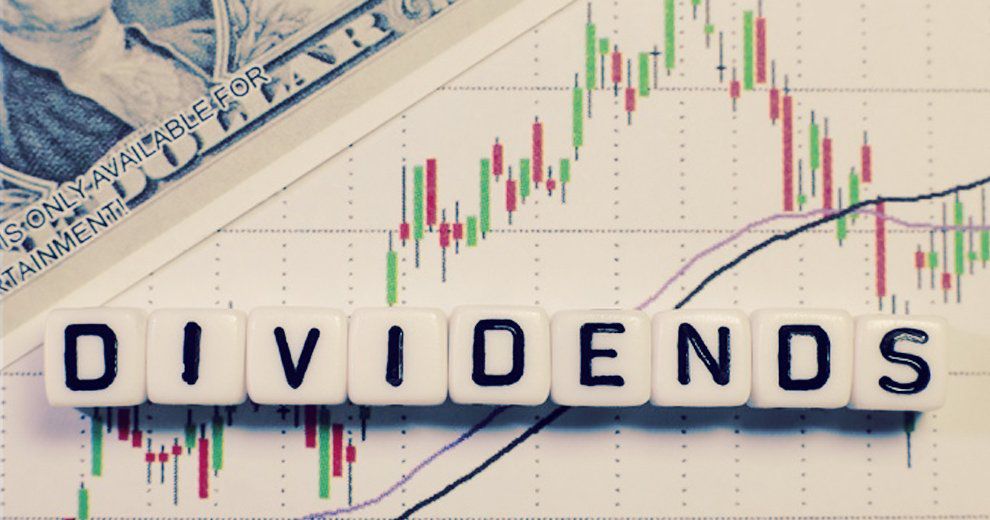 Among the large variety of investment strategies is the strategy of investing in dividend stocks. These are stocks that consistently and regularly pay high dividends. These stocks have a higher dividend yield than others. Investors who want more passive income pay special attention to dividend stocks.
Dividend ETFs
Of course, such interest could not be ignored by management companies. Therefore, today there is a large selection of foreign dividend ETFs. For comparison – with a dividend yield of the American market of about 1.5%, dividend ETFs bring 2-3% and even more.
Vanguard High Dividend Yield ETF (VYM)
The fund is focused on the dynamics of the FTSE High Dividend Yield Index. The fund includes approximately 440 securities from the energy, consumer goods and industrial sectors. Securities are selected based on their current yields, and large-cap companies with an expected dividend yield above average are selected. At the moment, the VYM dividend yield is 2.9%.
iShares Core High Dividend ETF (HDV)
This fund tracks the dynamics of the Morningstar Dividend Yield Focus Index. The ETF selects high quality large cap stocks (financial health grade) that provide consistently high dividend yield. The fund includes about 75 securities. Dividend yield 3.77%.
iShares Select Dividend ETF (DVY)
Tracks the index Dow Jones US Select Dividend IndexSM. The fund is focused on large-cap stocks with a stable dividend payout history of at least 5 years. Shares are selected based on the following indicators: the rate of growth of dividends per share, dividend yield and the share of profits spent on dividend payments. The fund has about 100 securities. The current dividend yield is 3.11%.
Global X SuperDividend US ETF (DIV)
The fund is focused on the Indxx SuperDividend US Low Volatility Index. This ETF includes US stocks with the highest current dividend yield. Number of shares – 50. Dividend yield DIV 6.44%.
These are just a few examples of dividend ETFs. Their dividend yield is twice or more than the S&P 500. This is probably why some investors fall under the "magic" of high dividend yield, expecting that it will bring them more money. Unfortunately, they can be disappointed.
Now let's compare the overall performance of these funds with the S&P 500 Index.

The profitability results were as follows:
IVV iShares Core S&P 500 ETF + 197%
DVY iShares Select Dividend ETF + 143%
VYM Vanguard High Dividend Yield ETF + 138%
HDV iShares Core High Dividend ETF + 96%
DIV Global X SuperDividend US ETF + 32%
As you can see, all the selected ETFs lost in terms of yield to the fund on the S&P 500. And the worst was the DIV fund, which was the leader in dividend yield.
Dividend aristocrats
There is a separate category of dividend stocks – the so-called dividend aristocrats. These are companies that have consistently paid and increased their dividends over the years. The aristocratic elite among dividend stocks. Perhaps they will be ahead of the index? There are several ETFs that target these high society figures.
ProShares S&P 500 Aristocrats (NOBL)
The ETF tracks the dynamics of the S&P 500 Dividend Aristocrats Index. The index includes stocks that have regularly not only paid dividends, but have also increased them for at least 25 years. Typically, these companies have a well-known name, stable earnings, a solid foundation, and a strong history of profit growth. The fund has 66 shares.
Vanguard Dividend Appreciation ETF (VIG)
This ETF tracks the performance of the NASDAQ US Dividend Achievers Select Index, which includes large-cap companies that pay dividends and raise them on an ongoing basis. The fund consists of approximately 180 companies. Securities are selected for inclusion in the fund based on their dividend increase history. Only companies that have increased their payments for at least ten consecutive years are included in the fund.
SPDR S&P Dividend ETF (SDY)
This ETF is linked to the S&P High Yield Dividend Aristocrats Index. The index consists of approximately 60 securities. Securities are selected for inclusion in the fund based on their current dividend yield. Only the highest yielding companies are selected, and these firms must increase their dividend every year for at least 25 consecutive years.

And again, the S&P 500 fund was the first:
IVV iShares Core S&P 500 ETF + 169%
ProShares S&P 500 Aristocrats (NOBL) + 143%
Vanguard Dividend Appreciation ETF (VIG) + 140%
SPDR S&P Dividend ETF (SDY) + 131%
If we look at the overall yield rankings, in the last 5 years, only 4 dividend ETFs (out of 90) have managed to outperform the Vanguard Total Stock Market ETF on the US broad market index.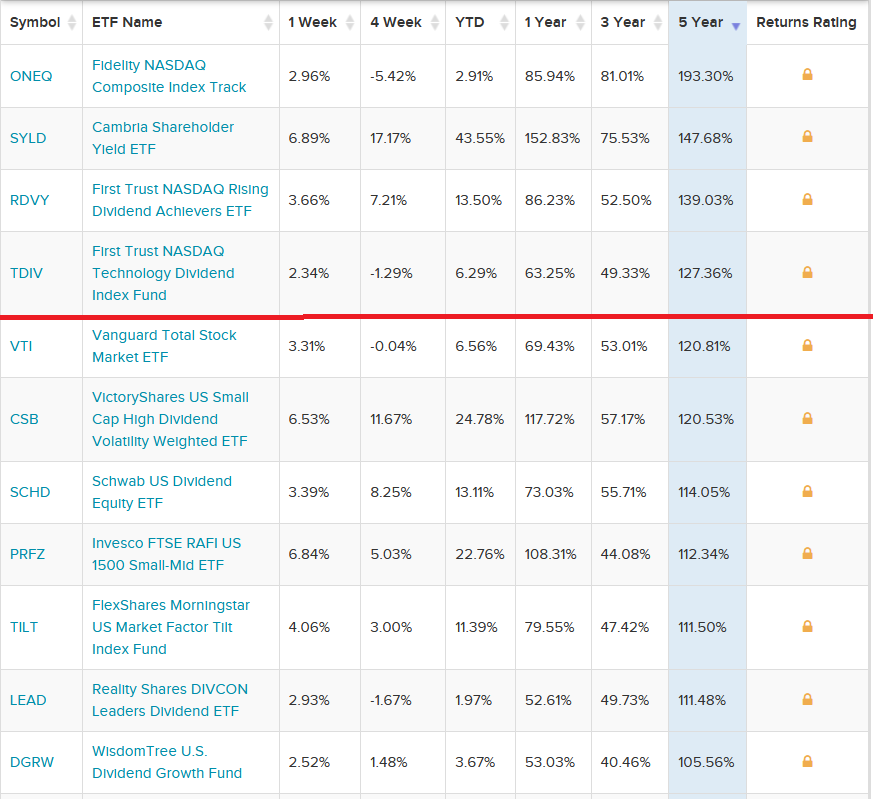 Why do dividend funds generate less income?
Why do dividend ETFs lose over the long term to a regular index fund (sometimes disastrously)? There are several reasons for this.
Dividend stocks mainly relate to the "old" economy – energy, consumer goods, utilities, industry, etc. On the one hand, companies in this segment are often considered some of the safest firms in the world and tend to be in more stable industries.
On the other hand, the index in the past few years has been growing mainly due to the companies of the "new" economy FAANG (Facebook, Apple, Amazon, Netflix, Google). These companies pay little dividends, reinvesting most of the profits. Old companies do not see such growth potential for themselves, so they prefer to pay out profits.
Dividend aristocrats, while increasing their dividends over the years, may be purely nominal. It is enough to increase your payments by the minimum amount to remain on this "elite" list. Some companies can do this even to the detriment of themselves (and therefore to the detriment of shareholders). For example, the Coca-Cola Company has raised its dividend annually for over half a century. And she continued to do this even when her profits fell, sometimes directing all her net profit to pay dividends. Not sure if it did the company good.
Another disadvantage is taxes. The higher the amount of the dividend payout, the higher your tax.
It is also worth mentioning the increased commissions. The management company remuneration for dividend ETFs is higher than that of classic index funds and starts at 0.06% and can end up to almost 2%.
Therefore, dividend investors, although they receive more payments in the form of dividends, lose in terms of overall profitability.
Extra generous ETFs
The idea of ​​living off dividends is very attractive. Therefore, stocks and funds with high dividend yields draw special attention. But such funds are fraught with danger.
Take the aforementioned Global X SuperDividend US ETF (DIV), for example. If you invested $ 10,000 in it in 2014, you would receive a very decent 4-7% in dividends annually. Their total amount would be $ 4,486 before tax. But by the end of 2020, your $ 10,000 would have turned into $ 6,486. In fact, you wouldn't have gotten any growth.
Such funds are rapidly eating up their capital. And the high dividend yield is more of a reason to bypass the fund. By itself, a high dividend yield does not mean high income. The higher the dividend yield of the fund, the faster the consumption will go.
findings
The desire to receive more passive income is quite natural. But don't look for a simple and easy solution. Choosing a "more profitable" ETF can result in financial losses. Companies that pay out too much dividend over time eat up their capital. Most dividend aristocrats and other dividend stocks, although stable, are old companies that are unlikely to bring significant growth to your portfolio. Don't forget about taxes, as more dividends will mean more taxes. Therefore, you should not rely solely on dividend stocks and funds.